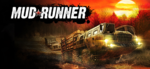 Score MudRunner for free on Epic Games Store! MudRunner is a fun off-roading simulation game with 19 incredible all-terrain vehicles and sandbox environments! Don't miss it!
Instructions:
Go to - https://www.epicgames.com/store/en-US/product/mudrunner/home
1. Login into your Epic Games Store account.
2. Click the "GET" button to add the game to your library.
​